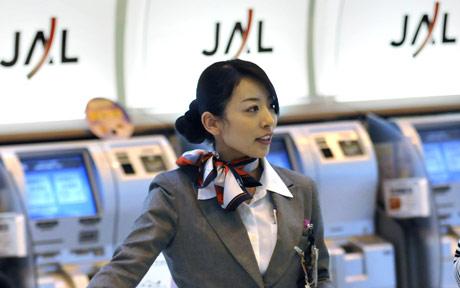 New Japan Airlines (JAL) uniforms have long been in demand in the local sex industry for customers keen on role-playing fantasies, while rare specimens that have actually been worn are hugely sought after by fetishists and are worth their weight in gold.
While many shops sell credible copies for under £100, genuine JAL uniforms can reach a fortune if sold on the black market. Historically, says Yu Teramoto, the owner of a specialist costumier in the Akihabara district of Tokyo, real JAL outfits have been virtually impossible for buyers to lay their hands on. However, the post-bankruptcy prospect of huge layoffs at JAL – especially among uniform-wearing air-crew – raises the prospect that former staff will attempt to sell their outfits for a profit.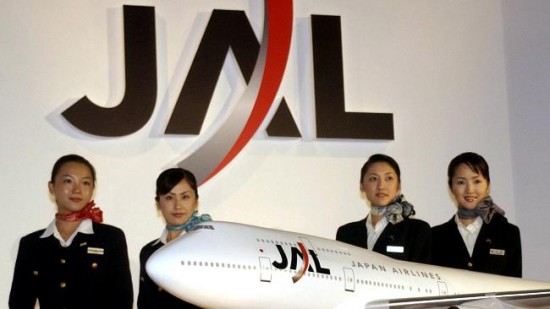 Yu Teramoto, who owns a costumier in Tokyo, said: 'It's hard to say but it is at moment of confusion and anger like this that the black market for uniforms should do well.'
JAL are now considering following in the footsteps of Japan's All Nippon Airways, who had a similar problem with their uniforms, by sewing computer chips into the outfits.
The outfits, early versions of which were designed by Hanae Mori, are incredibly popular among fans with a uniform fetish and can command exorbitant prices on on-line auction sites.
A jacket alone can fetch several hundred pounds, while one site is presently advertising a full set for more than £2,000. JAL's domestic rival, All Nippon Airways, has a similar problem and an ANA stewardesses' uniform is also on sale on-line for £3,745. Items that have been worn command higher prices.
"We have very strict rules on our uniforms and when people leave the company they are required to return them," a spokeswoman for JAL told The Daily Telegraph.
Every item of a JAL uniform has a serial number sewn into it and a dedicated department in the company is tasked with monitoring the whereabouts of every item. JAL has denied that it plans to insert computer chips into its uniforms, as ANA does, to trace them.
The spokesperson also admitted that a couple of years ago after a uniform worn by staff in the business class lounge surfaced on an internet auction site, JAL paid £1,500 to purchase a ground crew uniform from an internet site in order to keep it off the market.