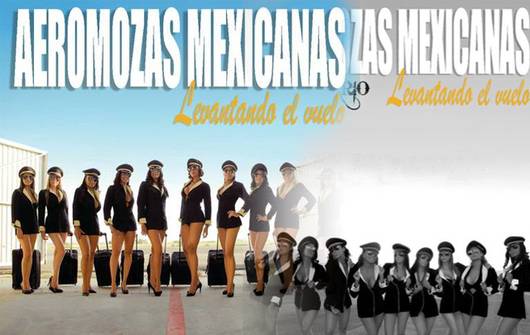 After Mexicana Airlines filed for bankruptcy this August, air hostesses photographed themselves in a 2011 "sexy stewardesses" calendar to save their airline. They paid $8,000 out of their own pockets to create the $12 calendar, which is on its second printing.

Ten stewardesses with Mexicana Airlines debuted their sexy, aviation-themed calendar on Thursday, which feature the flight attendants in bikinis or scantily-altered versions of their former uniform.
Mexicana Airlines, which has debts totaling about $800 million, shut down all flights at the end of August, leaving passengers stranded and confused about the fate of one of the world's oldest airlines.
The airline filed for bankruptcy protection on Aug. 3 after pilots and flight attendants rejected a deal to cut staffing by 40% and pay by 41% for pilots and 39% for flight attendants.
The company said it might be able to resume flights by mid-December, with 30% of the company's personnel.