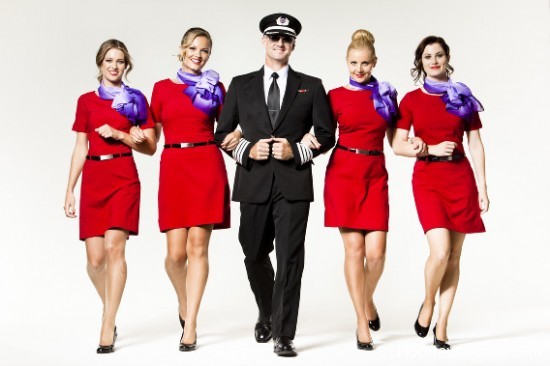 Modelled by Elle Macpherson and a team of 60 Virgin crew and pilots, the uniforms were unveiled on a makeshift runway at Sydney's Pitt Street Mall in true Virgin style. Virgin Blue hope to put the glamour back in to air travel with the unveiling of new designer flight attendant uniforms, a new business class cabin and a "superior economy class".


The new designs are more striking in colour and design than the previous khaki uniforms, have shorter sleeves, come to the knee and are made of super stretch and ultra breathable fabrics. As well as the new uniform, Mr Borghetti promised a new business class product and new airport lounges in a bid to lure more corporate travellers.
Juli Grbac of Project Runway fame designed the new uniforms with "style, sophistication and old-world glamour" in mind. "I took inspiration from the glamour of flying in the 1960s, and gave it a contemporary edge" she said. Ms Grbac said she spoke to flight attendants on a transit flight and quizzed them on what they didn't like about their old uniforms. Among their complaints were that the sleeves were too long, tight and restrictive, the hemline too drab, and that they just weren't stylish enough.
One of the main problems with the uniforms is a hangover from the era – their 100 per cent polyester lining – along with ill-fitting designs, The Daily Telegraph reported.
An internal email obtained by The Sunday Telegraph reveals staff members are suffering from discomfort and "very painful" rashes as a result of the uniforms and suggested staff members wash their uniforms with fabric softener before wearing them.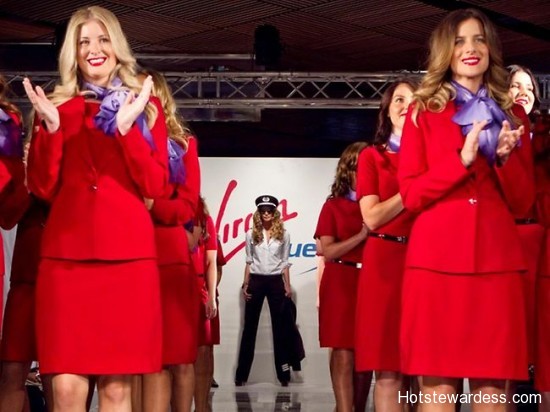 The Civil Aviation Safety Authority (CASA) has received at least four complaints from Virgin Blue staff since the uniforms were unveiled three weeks ago.
A flight attendant, who did not wish to be named, said she felt the airline had put fashion before comfort and safety. "The Virgin group is all about the look and they do not have the health and safety of the crew as a priority," the flight attendant said. "In an emergency these garments will be a hindrance, as the arms cannot be lifted above shoulder height due to the ill-fitting design."
"And in the event of a fire, being 100 per cent polyester it would be like having plastic melted on to the skin."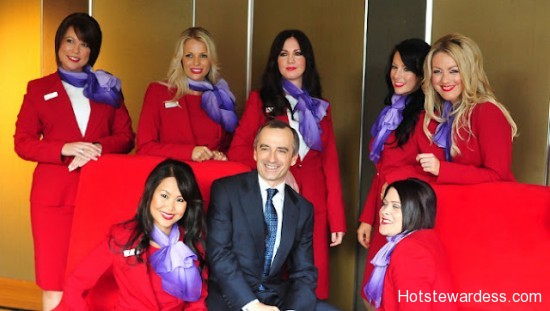 Virgin Australia Airlines, formerly Virgin Blue Airlines, is Australia's second-largest airline as well as the largest by fleet size to utilise the Virgin brand. Now based in Bowen Hills, Brisbane, Queensland, Australia, the airline was co-founded by British businessman Sir Richard Branson and former Virgin Blue CEO Brett Godfrey. It was established in 2000 with two aircraft operating on a single route, and suddenly found itself catapulted to the position of Australia's second airline after the collapse of Ansett Australia in September 2001. The airline has grown to directly serve 29 cities in Australia from hubs in Brisbane, Sydney and Melbourne, using a fleet of narrow-body Boeing and Embraer jets and Airbus widebody jets.
After several years operating as a low-cost carrier it improved its services to become a so-called (self-described) "new world carrier" – essentially a business model with aspects of the "no frills" approach of low-cost carriers but offering services more in line with full-service airlines – in order to compete more effectively with Qantas in the business travel market. In 2011 it took the strategy further with new uniforms; new catering on board; new widebody aircraft to compete with Qantas on Perth – Sydney services; and the concurrent introduction of business class; together with a new livery and a renaming to Virgin Australia. Currently the airline is considered a four-star airline by research consultancy firm Skytrax.