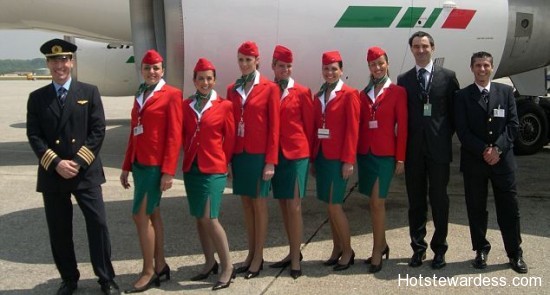 An Italian airline Meridiana has sparked outrage among stewardesses by suggesting that its air hostesses go on a diet so they can fit into their new Size 10 uniforms. An Italian airline, which operates flights from Italy to destinations across the world, issued the directive when a former model who has become cabin services director met staff. Cristina Ceolin, who is married to one of the firm's directors, is alleged to have told the female members of staff: 'Darlings, you cannot get any fatter, in fact if anything you must all slim down.'

Mrs Ceolin's demand has angered staff who have fired off an angry letter to Meridiana's owners, who include the Aga Khan. They have also posted a copy of it on an Italian airline employees website, on which they describe the request as 'sexist and discriminatory'.
They complained: 'Following on from Mrs Ceolin' recent declarations we as employees of Meridiana would just like to express our anger by the remarks made with regard to the new uniforms and weight.
'This role is very distinct to the stereotypical image of a hostess that Mrs Ceolin has, that of a mannequin, we are for less glamorous and far more prosaic. We hope that good sense prevails from this and this will be a guide for future decisions.'
The uniform that is being introduced is a play on the colours of the Italian flag, with a red jacket, white shirt and green skirt as well as a jaunty red beret and is that worn by airline Air Italy which was recently merged with Meridiana.
Meridiana spokesman Nicola Lombardo today denied that the airline planned to 'introduce a new slender figure hugging uniform and that it had asked hostesses to go on a diet'.
He said: 'We really don't understand where this has all come from. All that we ask is that our hostesses have a pleasant appearance, no tattoos or piercings and have a good level of English. We are not going to start weighing them.'
Meridiana was originally called Alisarda when it was formed in 1963 by the Aga Khan, and it is based on the Italian island of Sardinia.